PhD Program Requirements
Close mentorship, coursework, and opportunities for cross-disciplinary study are available throughout the PhD program, allowing students to tailor their learning experience to their interests and needs.
The PhD program comprises two distinct phases:
Phase I: before the qualifying exam
Phase II: after the qualifying exam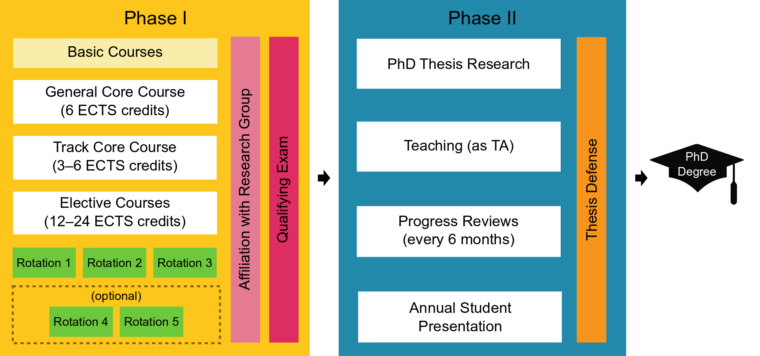 ---
Phase I
When joining the PhD program of IST Austria, students are not part of any specific research group.
During the first phase, students:
Do three rotations with three different professors (lasting approx. two months each)
Find a PhD supervisor (a professor at IST Austria)
Form a thesis committee, consisting of:
– the supervisor(s)
– two other thesis committee members (one of whom must be external)
Pass a qualifying exam, which consists of:
– an oral presentation of the thesis proposal, and
– an oral exam on the thesis proposal and reading list
Fulfill course and credit requirements (see below for details)
Students with a bachelor's degree have at most two years from their start date, and students with a master's degree have one year from their start date, to find a supervisor and affiliate with a research group.
| | | |
| --- | --- | --- |
| | M.S. students | B.S. students |
| Typical duration of PhD | 4 years | 5 years |
| Affiliation deadline | Jun 30 (Year 1) | Jun 30 (Year 1) |
| Qualifying exam deadline | Feb 15 (Year 2) | Sep 15 (Year 3) |
Course and credit requirements
Two basic courses:
– "Introduction to Research at IST Austria"
– "Scientific Presentation and Conduct"
Attend two required core courses:
– one interdisciplinary general core course (fall semester; 6 ECTS)
– one field-specific track core course (spring semester; 3-6 ECTS)
Students entering with a bachelor's degree need to obtain a total of 36 ECTS credits of coursework; students with a master's degree require a total of 24 ECTS.
---
Phase II
After passing the qualifying exam,  students work primarily on research towards a PhD thesis. The exact requirements of the thesis vary by discipline, but invariably, students work closely with their supervisor and/or the rest of the research group, to produce  original research of the highest standard, and make significant contributions to the understanding of a specific topic of research.
Students in Phase II are expected to offer teaching assistance (TA) for at least one half-semester course before graduating. Students hold regular progress reviews with their supervisors, and a committee of professors must approve each year that the student is making satisfactory progress towards completion of the PhD degree.
There are also biannual progress reviews, which students perform with supervisor(s). The purpose of this is to discuss the student's performance and  assess whether reasonable progress is made towards the PhD degree, as well as make constructive suggestions on how the students can attain the established goals and complete the thesis project in a timely manner.
In the Fall semester of the fourth year, students give a presentation on their thesis research. The presentations are an opportunity for students to present their preliminary research results to the wider institute, obtain feedback, and hone their presentation skills.
A thesis defense is typically scheduled within three to four years after passing the qualifying exam. It consists of a public oral presentation of the draft thesis (normally 40-50 minutes) in the presence of the thesis committee, followed by questions and answers on the thesis.
Once a final thesis is submitted and accepted by the thesis committee, the PhD degree is awarded by the Institute.
---
For More Information
If you have any questions about the ISTScholar PhD Program, go to our Frequently Asked Questions section to see if you find any answers there.
Back To Top